Blogdrive dah idop balik ke??
akhirnya!!! ada gak sub!! yeay!!! dh lama gila tunggu citer nih.. hehehhe thanks to kind souls who subbing this. lalala
suker everthing about this movie, the nerdy leading man, the tomboyish leading lady, the storyline, hemm.. apa lagi? leading man.. eh.. udah sebut tadik.. ekekek.. the beautiful set.. uhuhu... tetiba teringin nak berbacpack ke india. ish2x... nampak sangat mudah terpengaruh kan? keh keh...
Posted at 04:32 pm by
cwazywabbit
Permalink
happy new year!!! hahahaa... dh lama gila blog ni terbiar. tetiba lak tangan ni gatai nak menaip. Tapi nak tulis apa ya? Hemmm…
.
.
.
.
It's seems that my little brain is a little empty rite now.
Kwang.. kwang… kwang…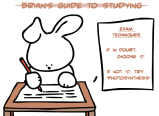 something caught my interest lately.

So, i've been learning very diligently for the past week. Alhamdulillah, i kinda got the basic part. Seronot & rasa susah @ the same time.

Tak tau la sampai bila boleh bertahan.

Biasalah hangat2 ciken poop jek! Thehehe…

fighting!!
Posted at 03:11 pm by
cwazywabbit
Permalink

* pic taken from FAM website

Have you seen a commercial from one of the telecommunication company? The one that our former football hero telling their stories. Their past glory.
Does anyone beside me that found it's kinda pity that the only proud memory of our football team was from eons ago? Uncles in their 60's proudly reminiscing the glory of wining. Achieving something for their country. A true hero.
I wonder, 10-20 years from now, was their glory the only one that we got to show to our future generation?
Ps.: in one of the commercials, they show we beat south korea. but in 2010 our football team in a rut & SK team is competing in world cup. Ironic don't you think?

Posted at 01:19 pm by
cwazywabbit
Permalink